A quick and easy healthy snack that takes only a few ingredients and is totally portable (plus they are nut free, and can be made gluten free and vegan), you'll love the indulgent flavor combination in these Cherry Chocolate Chip Energy Balls.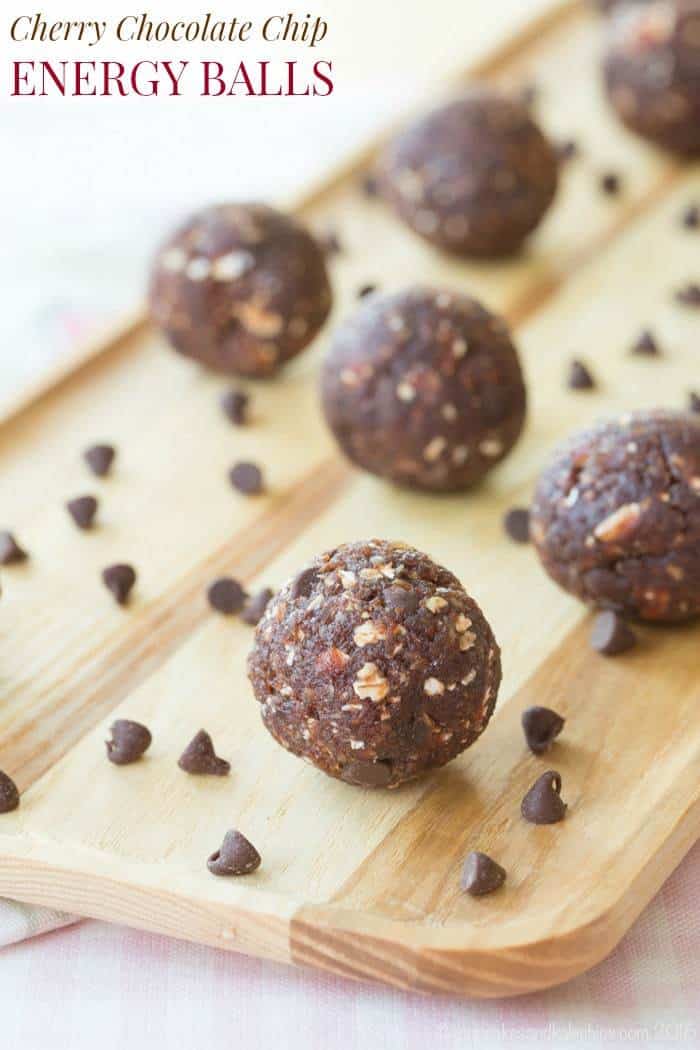 Hi everyone! For those of you who might not have stumbled across my blog before, I'm Brianne of Cupcakes & Kale Chips. People always ask me about the name of my blog, or come to me looking for me to make cupcakes for their kid's birthday party, or wanting the best kale chip recipe. To be honest, I don't eat much of either. I have a wheat allergy, and while I do some gluten free baking (this Banana Snack Cake is a great healthier treat), I haven't made a ton of gluten free cupcakes. And I am a kale chip hypocrite. In fact, I don't even like kale much at all, and typically opt for baby spinach in my smoothies. But it reflects my philosophy on balancing a overall healthy lifestyle with some well-deserved occasional indulgences, and Cupcakes & Kale Chips sounds way cuter than my true passions - Cauliflower & Ice Cream.
When I heard that Lauren needed a few people to step in as she recovers from surgery, I was happy to help. She and I actually traveled to a food blogger conference and shared a room a couple years ago, and one thing I was very sad about when I moved from New Jersey to Maryland last year is that she and I only ever got the chance to get together once before I left my home state.
Besides being Jersey girls, Lauren and I are both moms of boys. But even though I only have two, I know as well as she does that these boys just want to eat all the time. So since they are always looking for snacks, I always try to keep plenty of healthy snacks on hand, and energy bites or balls are always a favorite.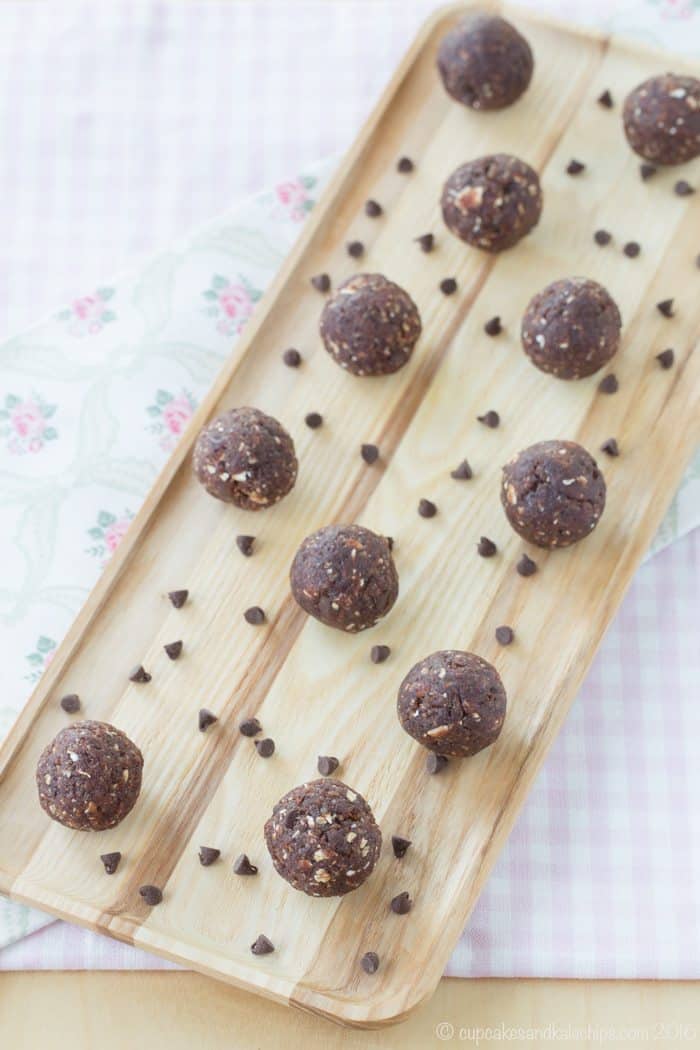 These Cherry Chocolate Chip Energy Balls can be whipped up in no time, and they satisfy the sweet tooth of kids an adults alike without being filled with tons of junk. Yes there's some chocolate in there, but the best part about mini chips is that a little goes a long way, so you can still get your chocolate fix without devouring an entire candy bar. Other than that, it's dates, dried cherries, oats, and flax seeds - all good stuff. And as long as you choose the right ingredients, you can make these gluten free and vegan. Some of my other energy balls, like my Funky Monkey Energy Balls, have nuts or peanuts, but these, like my most popular energy bite recipe, my Cinnamon Caramel Apple Energy Balls, are completely nut-free, so perfect if you or your child have an allergy or they attend a nut-free school.
The other fun thing about energy balls is that they are get for getting the kids involved. My boys love rolling the balls almost as much as they love eating them!
I hope you'll give these a try. With the reddish hue and hint of chocolate, they would even be fun for Valentine's Day!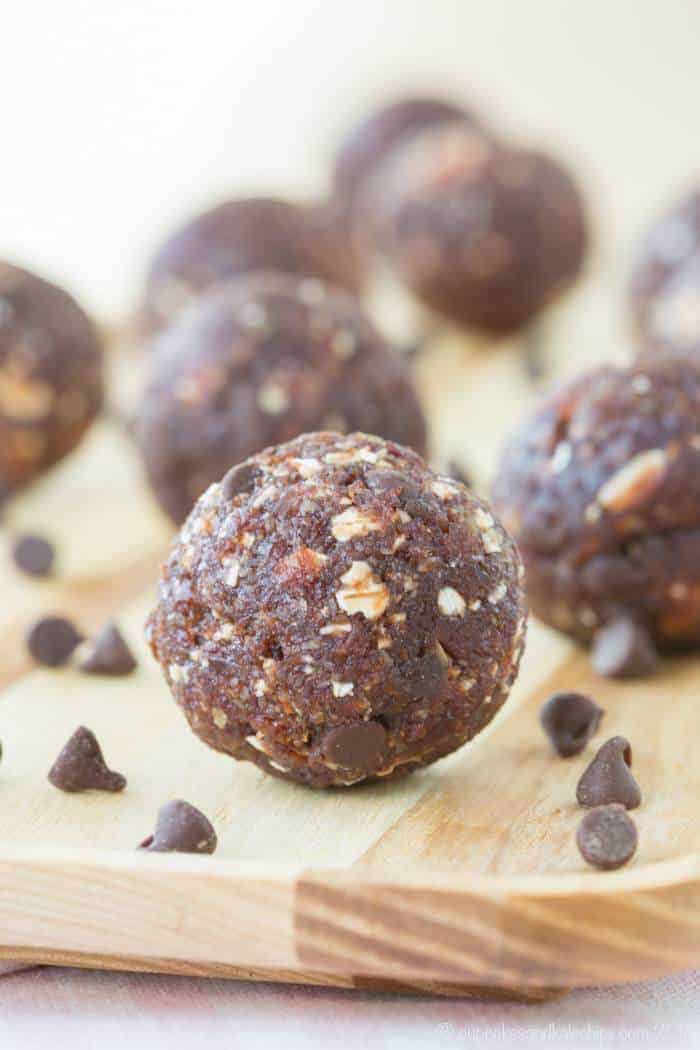 Thanks, Lauren, for letting me pinch hit for you while you get back on your feet! Feel better soon!
And if you can also see more of my Yummy Eats and Tasty Sweets, plus all kinds of craziness from my life with my silly boys on cupcakesandkalechips.com, as well as Facebook, Twitter, Pinterest, Instagram.
Cherry Chocolate Chip Energy Balls
Makes 18
Ingredients
1 cup pitted dates

1 cup dried cherries

1 teaspoon vanilla extract
½ cup ground flax seed
½ cup old-fashioned oats (gluten free, if necessary)

pinch salt

¼ cups mini chocolate chips (gluten free and vegan, if necessary)
Directions
Combine all of the ingredients except the chocolate chips in a food processor and process until it forms a paste.

Stir in the chips.

Using about a tablespoon of the mixture at a time, roll into balls.

Store in an airtight container until ready to eat.